Click the Book Covers Below to Buy the Books

Current Moon Phase




Waning Gibbous Moon




The moon is 17 days old


Distance: 61 earth radii
Ecliptic latitude: 4 degrees
Ecliptic longitude: 104 degrees


Recommendations

Good Information

Wind Weather & Tides

Meta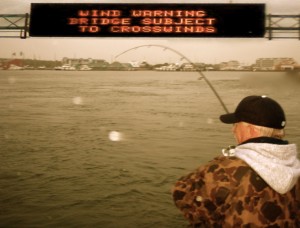 When I wished for more unsettled weather last week, I might have asked for too much.  Back-to-back Nor'easters slammed the Chesapeake region over the weekend drenching us with several inches of rain and even light snow in the upper reaches of the Bay.  Winds have been sustained at 25 knots with stronger gusts since Friday.  In short, it's been a miserable weekend.  Nevertheless, a few intrepid fishermen are getting out in the rivers and turning up some nice fish.  I've heard several reports of big ones in the Patapsco River over the weekend including some 30 inch plus fish in sheltered waters inside the Key Bridge.  Closer to home, I fished Eastern Bay Friday evening with my regular fishing partner Rich and his friend Dan who is visiting from Florida.  We launched in pouring rain out of Kent Narrows into a strong incoming tide and found working birds within a few miles.  Although we knew there would be fish beneath those birds, we ran on farther south to look around the mouths of the rivers hoping to find some schools of big migratory fish.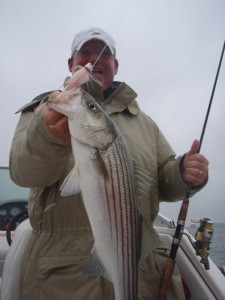 Unfortunately, we didn't find those fall ocean fish, so we made our way back toward where we started and found schools of peanut bunker being chased by some decent stripers in very shallow water.  This was the same pattern I had identified with Jamie earlier in the week.  We worked Crockett's Reel back into the skinny creek channels and made our casts up onto the surrounding flats.  We caught several nice fish on topwater, with spooks out-fishing chuggers three to one.  The surface action slowed somewhat, so we switched over to jigs and continued to catch fish.  Dan was throwing a 1 ounce white bucktail with a 4 inch pearl bass assassin attached.  That turned out to be the winning ticket as he had the hot rod for the evening.  Dan was simply casting it out and swimming it back slowly letting it occasionally drag along the bottom.  It matched the bait perfectly and resulted in multiple strikes on every cast.
Rich and Dan have been friends for years, and I enjoyed listening to their banter as they aggravated each other about who was catching the biggest fish.  They frequently had on fish at the same time, and they held them up to see who got bragging rights. I laughed through the entire afternoon.
As our light faded and the incoming tide slacked, we moved up to the Narrows and threw topwater.  Rich popped a 27 incher on his red-head Heddon Super Spook.  I didn't get a picture of the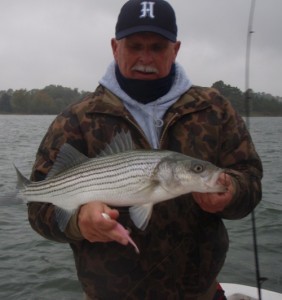 fish because I let it throw a hook into my finger.  I had climbed out on to the swim platform to lip the fish, and carelessly took my eye off the lure.  The hook went all the way through my knuckle and came out the other side.  Fortunately, with the barb removed, it was relatively easy to back it out.
Water temperatures are plummeting, now down to the high 50s.  We should get migratory schools in the area anytime now.  I have an issue with a cooling system leak that I hope to resolve in the next couple of days because it's about to really get good. Hang on!  
Responses to "Wind Warning!"