Click the Book Covers Below to Buy the Books

Current Moon Phase




Full Moon




The moon is 16 days old


Distance: 61 earth radii
Ecliptic latitude: 4 degrees
Ecliptic longitude: 92 degrees


Recommendations

Good Information

Wind Weather & Tides

Meta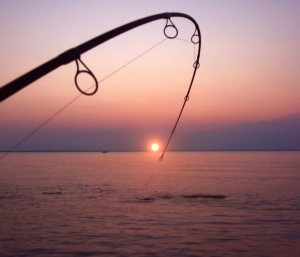 Only those become weary of angling
that bring nothing to it but the idea of
catching fish. – Raphael Sabatini
When I was in the eighth grade I read every book in the Mooresburg, Tennessee Elementary School library.  Granted, it wasn't a very big collection, but it still stands as a favorite personal accomplishment because I set the goal for myself and met the challenge.  One of my favorite novels was the swashbuckling pirate story, The Sea Hawk by Raphael Sabitini.  I imagine Sabitini must have been a good fisherman because he understood one of the fundamental principles of the sport:  Anyone can catch a fish, but a true angler looks for a challenge.  This time of year, catching rockfish is not really much of a challenge on the Chesapeake Bay.  Although the stripers are rarely over 30 inches long, there are plenty of fish that are ready and willing to take almost any bait as long as the current is running.  It's the time when most of us look for birds and chase blitzing fish over hard, live bottoms. Some days are more challenging than others, but chances are there are working birds to be found for those who are willing to cover enough water. The fun of chasing breakers dulls after a while.  Unless there are kids on the boat, or people who don't fish much, the battle is won once you find the frenzied fish.  Sometimes I'd just as soon sit and watch them because the result of casting a lure is predestined. To complicate things, we're experiencing record high temperatures this June.  Striped bass simply cannot survive when exposed to air temperatures over 90 degrees.  In the heat of the Chesapeake summer, catch and release fishing is a very bad idea.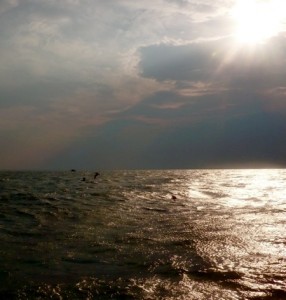 I've fished twice this past week, both on cooler days.  I caught an incoming cold front Wednesday evening and got out about 7:00 PM launching out of the newly rebuilt Shipping Creek ramp on the Eastern Bay side of Kent Island.  Even with 20 knot winds and whitecaps, there was plenty of bait visible on the surface. I noticed several large Caspian terns skimming rain minnows right out front of the ramp, with some smaller least terns farther out. I looked for a few minutes, but there were no stripers under them. My goal for the evening was to hit as many hard bottoms as possible looking for working gulls. I lucked up on them pretty quickly and found multiple schools of 16-25 inch rockfish.
I moved from school to school jigging beneath breakers looking for bigger fish. I eventually gave up on getting anything sizable on a jig, but not before I landed a 21 inch pink-tagged fish. When I saw th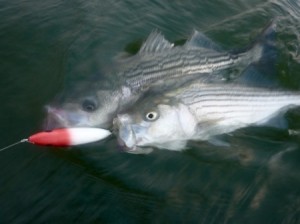 e tag I was thinking "please be Diamond Jim," but even I'm not color-blind enough to confuse pink and green. That's okay, I like the hats Maryland DNR gives out for reporting tagged fish.  I bagged the striper with tag intact, put it in the cooler, and called Beth at DNR.  Stay tuned, I'll post the story of this fish once I get the report.
Next, I decided to throw a top-water plug into the breakers so I cut all the trebles off my redheaded Topdawg and mashed down the barbs.   Despite all that, I still ended up catching two fish on the same lure. With a storm moving in and no need to catch more fish in a barrel, I pulled off the breakers and ran home. I didn't have any soft plastic lures bitten in half, but I'm pretty sure I saw some bluefish in the mix. It won't be long before they're here in force. It's good to see summer breakers. It'll be fun taking the family and friends out if they stay around. The bad news is I lost another cellphone overboard. How many does that make?  I'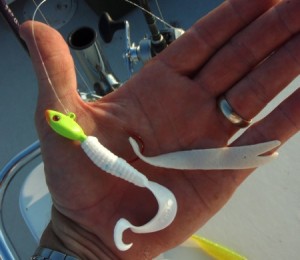 ve lost count now.
I almost didn't go today, but lower humidity and dropping afternoon temperatures lured me back to the water.  I got out about 4:00 PM.  Once I cleared the ramp I called my buddy Mark since I knew he was already fishing in his boat.  He reported some nice stripers south of Poplar Island.  I showed up just about the time the incoming current waned, but managed a couple of fish right off the bat.  Since temperatures were still close to the red zone, I decided to pull off the rockfish and target croakers.  It's been a while since I brought home a mess of hard-heads and I thought it might be an interesting alternative to our weekly rockfish dinner. It's easy to catch croakers on shrimp or bloodworms this time of year, but more challenging to get them on a jig. I replaced the usual hotrodded 6″ Mann's Hardhead on my three quarter ounce jig head with a 4″ white twister tail gr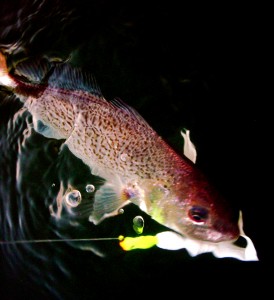 ub and tipped the jig with a white Uncle Josh pork rind "Striper Strip."  I slowed down my retrieve, keeping the grub on the hard bottom a little longer than I would when striper fishing, and snapping it up lightly when I felt it touch down.  The croakers ate it up.  It wasn't long before I had a cooler full of hard-heads, even landing a few sub-legal flounder in the process.
Once the sun got lower in the sky and temperatures started to cool, I moved closer to shore and started throwing a top-water lure for stripers.  The evening sky was orange and gold so I matched the colors with a bronze mirror spook.  The fish liked it, blowing up on the lure every time it hit the water.  It was good fishing.  The setting sun to the west and rising full moon to the east completed the experience.  Just as the sun touched the water I made a long cast toward the golden glow and hooked one of the biggest fish of the day.  I can't say the light show would've been less magnificent if I'd watched from my front porch, but I'm glad I went out after it.  If this evening's challenge was to catch a Chesapeake sunset, I think I got close.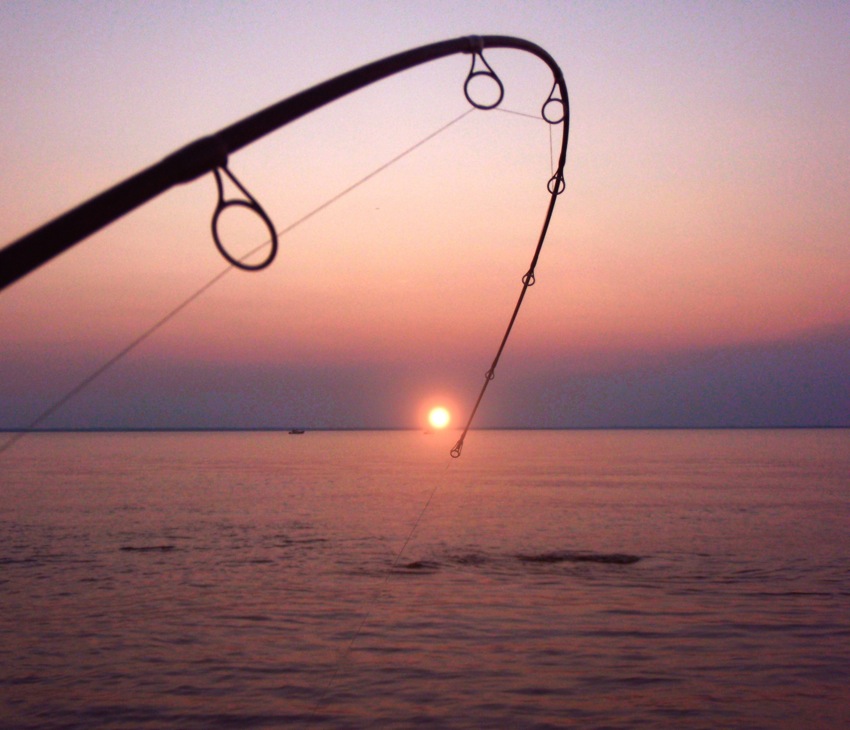 Responses to "To Catch a Sunset"