Click the Book Covers Below to Buy the Books

Current Moon Phase




Waxing Gibbous Moon




The moon is 12 days old


Distance: 56 earth radii
Ecliptic latitude: -3 degrees
Ecliptic longitude: 336 degrees


Recommendations

Good Information

Wind Weather & Tides

Meta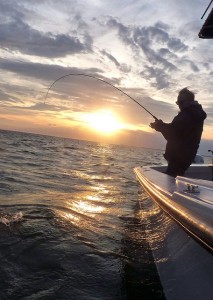 Savvy Chesapeake anglers recognize an event that happens every fall that has significant impact on light tackle fishing. In summer months, the waters in most areas of the Chesapeake Bay stratify so that it is cooler, denser, and saltier down deep, but lighter and fresher near the surface.  In the fall, as temperatures cool and strong cold fronts bring lots of wind, the water is stirred up so that the top layer eventually reaches the same density as it is down deep.  When that happens the surface water sinks so that for a while, temperatures and salinity are about the same top to bottom.  It doesn't happen all over the Bay at the same time, but it's easily recognizable to fishermen because we start noticing that fish are feeding at much deeper depths.  In some parts of the Maryland portion of the Bay, we are currently experiencing the fall turnover.  This can be both good and bad for fishing.
Stripers don't feed in very deep water during the summer months because there isn't enough oxygen in the over-polluted Bay.  I haven't seen any stripers feeding in areas deeper than 30 feet since early last spring.  That's a little different than previous summers when I could sometimes find nice fish feeding deep at high turbidity areas like the Bay Bridge rock piles.  Last weekend we had cooler temperatures along with very strong northwest winds.  This resulted in very low tides, as low as I've seen all year.  In addition to the wind, a strong tidal surge pushed along by a full moon caused the upper Bay to flush like a toilet bowl. Things ebbed and flowed over the next couple of tide cycles and the fish were in shock.  Fortunately things have now settled down and we have consistent water temperatures top to bottom in many portions of the Chesapeake Bay.
Once I had an idea of what was going on this week, I headed out to some fishing spots I know to be good when fish are feeding deep.  This is a different pattern than I've been working the past couple of weeks, but I thought I might get lucky.  My suspicions were confirmed when I pulled up on a ledge that drops from 16 to 35 feet and the fishfinder lit up top to bottom with big bait and nice fish.  I worked that pattern the past three evenings in a row.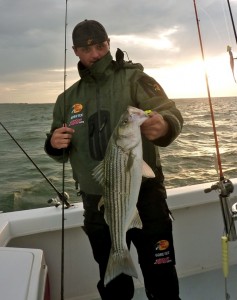 My fishing partners and I caught nice fish every evening with last night turning out to be the best of the three.  I was joined by my friends and past fishing partners Joe and Dave along with Joe's co-worker Joey.  Joey has been turning out some fantastic work for the Maryland Department of Natural Resources (DNR).  It's obvious he has a interest in things both sporting and scientific and he has an excellent eye for art.  That fits the high-tech redneck formula for people I usually get along with, so I was anxious to get to know him better.  Turns out he's also a fine fisherman.  In fact, he out-fished both the old salts and young guns on Thunder Road last night.  I think he finished the night with sore arms from dragging in nice fish.  Since he was slipping and sliding around on the slippery deck a little (some of our fish were dripping sea lice), he may be sore in other places too. You can read his report complete with photos and video on the DNR's Angler's Log website.
I'll stay with the current pattern with fish at all depths for as long as it lasts.  As the turnover occurs in different parts of the Bay, expect fishing to be tough in some places while it's wide-open in others. Eventually, the warmer water will start to settle deep and we'll see an opposite stratification pattern than what we had in the summer.  I'm already seeing some pycnoclines at approximately twenty feet in the upper Bay and also around the mouths of the bigger rivers.  In areas of higher stratification the bait will hold deeper in the fall, and so will the fish. Check this article for more information about temperature and salinity in the Chesapeake Bay. Also, stay tuned. We should start getting more consistent slugs of bigger fish moving up from the south this week and next.  Brace for the next strong cold front to deliver some really nice migratory stripers.  Good luck and I hope to see you on the water.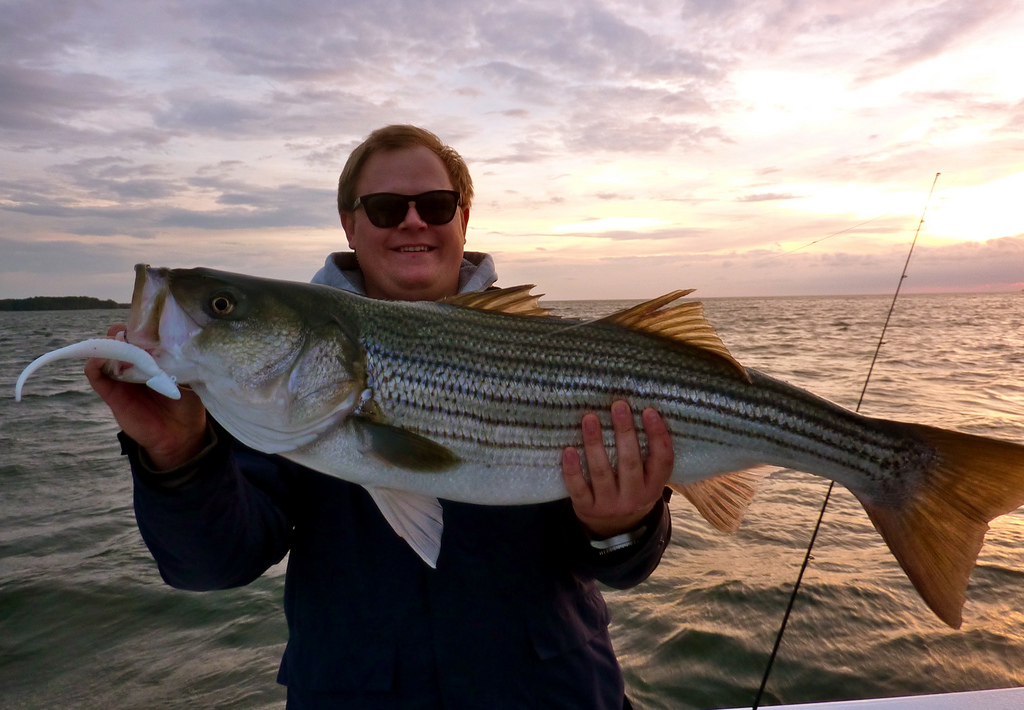 Responses to "Fall Turnover"