Click the Book Covers Below to Buy the Books

Current Moon Phase




Third Quarter Moon




The moon is 20 days old


Distance: 63 earth radii
Ecliptic latitude: 4 degrees
Ecliptic longitude: 141 degrees


Recommendations

Good Information

Wind Weather & Tides

Meta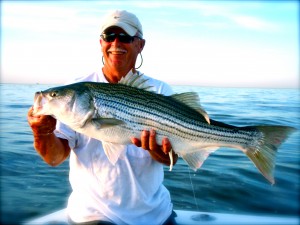 The good news is that those migratory fish I talked about last week – you know, the ones that sneak in through the C&D canal every October – well, they're here.  Since last Tuesday, reports of big, clean fish with sea lice have been flooding in. The bad news is that the Upper Chesapeake Bay is still so murky that those big stripers are moving quickly down the channel searching for cleaner water and more plentiful bait fish.  They haven't gone too far south, but they have bypassed the northern humps and ledges where we've found them in years past.  The ugly part is that, since those fish showed up in some very accessible high-traffic areas, word got out quickly and a bite that traditionally lasts until the end of October shut down in just a few days. At the end of last week, fishing was very good, but soon hoards of inexperienced fishermen, some with screaming kids, running engines, and blaring radios, descended on an area that is shorter and narrower than a football field. That caused the fish to hunker down and become very difficult to catch. Difficult, but not impossible.  It's been a tough week, but there are trophy stripers in our area right now, and fishing is sure to improve as more and more migratory fish enter the Chesapeake.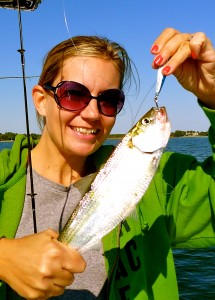 I don't have a lot of time to file a report this week, but I got out a few times last weekend.  I spent Saturday touring the Bay with my brother Michael and his wife Brandi.  We couldn't fish in the morning, and they had an early evening flight back to Tennessee, so we spent a few mid-afternoon hours touring Annapolis harbor before circling back to cruise around Kent Island.  Along the way we stopped at some well-known locations and somehow managed to catch fish despite heavy weekend crowds. Brandi reeled in her first Chesapeake Bay rockfish beneath the shadow of Thomas Point Lighthouse.  She followed it with several bluefish inside Eastern Bay, and even managed to catch a rare October hickory shad on her 3-inch Li'l Bunker jig.  Hickory shad aren't unheard of this time of year, but it's still a treat to see them.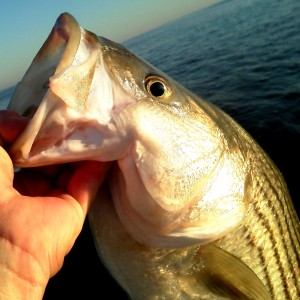 I got up before dawn Sunday morning and fought the crowds for a few hours. I had some nice fish right after sunrise, but by 9:00 AM there were 17 boats packed into a very small fishing spot.  I fish this area every October, but I've never seen so much piling on. I gave up and went home to mow the yard.  By 5:00 PM my chores were done and the crowds had thinned, so I got back out with Jamie and Rich.  We caught a lot of fish including four or five over thirty inches, but they didn't come easy.  It took dyed and heavily scented plastics coupled with very light jig heads and an extremely soft touch to coax the fish into striking.
I tried again before dark Monday evening and fishing was even tougher.  The crowds were back.  I don't blame anyone for trying to get in on the big fish bite, and I always enjoy seeing my friends out there on the water, but a dozen boats on one fishing spot sure makes catching tough. It's silly to complain. I'm in the business of promoting light tackle fishing and this is certainly a light tackle/artificial bait bite. Hopefully, the less experienced fishermen will watch and learn so they don't make  the same mistakes again and spook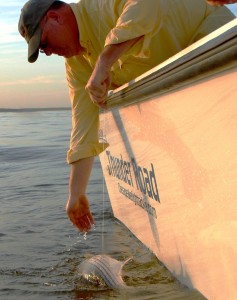 the fish. Except for a few Sunday morning idiots, everyone has been very well-mannered and respectful to their fellow anglers.  Also, as far as I know, no one has burned the spot on the internet.  We'll see how long that lasts!
This week I expect more big fish to show up.  Unless we get a lot more rain, water quality in the Upper Bay should steadily improve.  I also expect to hear of big fish farther south as resident rockfish move out of the rivers and ocean stripers move in from the Atlantic.  There is unsettled weather in the forecast, so that should shake things up a little and make fishing even better.  If I get out again this week, I'll go back to throwing topwater plugs in the shallows and working inside the rivers, but I'll also be watching the humps and ledges closely.  Hang in there.  The fish are sure to spread out so we won't be tripping over each other much longer. The pattern is changing, but water temperatures are still in the mid-60s and we're just on the leading edge of the fall migratory bite. When it breaks, we should have a few weeks of wide-open fishing.
Responses to "The Good, The Bad, & The Ugly"