Click the Book Covers Below to Buy the Books

Current Moon Phase




Third Quarter Moon




The moon is 20 days old


Distance: 63 earth radii
Ecliptic latitude: 4 degrees
Ecliptic longitude: 141 degrees


Recommendations

Good Information

Wind Weather & Tides

Meta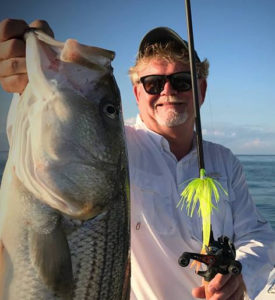 By now, you've probably noticed that many Chesapeake Bay light tackle anglers are using skirted jig heads when they fish with soft plastic lures. Jigs with silicone skirts are becoming extremely popular in the Mid-Atlantic region and there's no doubt that they make deadly baits for big striped bass. A skirt on a lead jig head with a soft-plastic bait increases action and creates a wider profile in the water. Skirts also provide color and contrast, two essential big-fish strike triggers.
Skirts on lures aren't anything new. They got their start in the mid 1920s in Akron, Ohio where Fred Arbogast worked for the Goodyear Tire and Rubber Company. He and his fishing buddies experimented with slicing thin rubber sheets into narrow strips and attaching them to their spinning lures. They caught fish. After Arbogast won several fishing competitions, he took out an ad in the June, 1926 edition of The Hunting & Fishing Magazine. His lures caught on quickly so Fred quit his job at Goodyear to form the Arbogast Lure Company.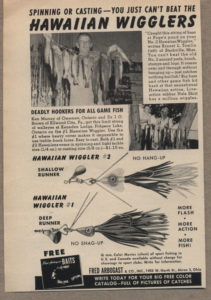 Arbogast invented another famous lure in the 1930s during a time when, thanks to the post-WWI build up of military bases, there was tremendous national interest in Hawaiian culture and music. Fred's rubber strands reminded him of the risque´grass skirts worn by Hawaiian hula dancers. He came up with a spinning lure he called the Hawaiian Wiggler. That lure sold by the thousands so he followed it up with the even more wildly-popular Hula Popper. The Hula Popper came in both a fly and baitcasting version. The lures worked so well that they can still be found in most of our tackle boxes today.
My introduction to rubber skirts happened organically. Growing up in the hollers of East Tennessee in the 1970s, my fishing buddy Curtis Seals and I experimented with using safety pins for lures. You might remember that in my book, Chesapeake Light Tackle, I told of how, as kids, we challenged each other to farm-pond fishing contests using only homemade lures. We used pliers to bend the safety pins into a tiny hook on one end, then attached a thin metal blade to
the other. To give it a more realistic look, we attached chicken feathers using rubber bands. Since the rubber bands were always too long to fit around the shaft of the safety pin, we tied them on leaving the loose strands to dangle. We soon discovered that we didn't need the feathers at all as long as there were enough rubber strands hanging down. Our rubber-band-skirted spinner baits were killers for small bass and bluegill.
Silicone replaced rubber in fishing skirts in the mid-1980s and quickly caught on thanks to a marketing campaign by a company in Minnesota. Silicone skirts were a hit because they don't melt or stick together in a warm tackle box like the original rubber skirts. Silicone is also lighter and moves around more in the water thus providing better action to the lure. It's inexpensive to produce and can be dyed into virtually any color or combination of colors.
My first introduction to skirted jigs for light tackle striper casting came when I met Northern Virginia lure manufacturer and ace light tackle angler, George Lenard of Specialized Baits. About twenty years ago, George invented a lure he calls "The Bug." The Bug features a teardrop-shaped swimming jig head. It comes in weights between 1/4 and 2 ounces and features either a white, chartreuse, or chartreuse glitter silicone skirt. My partners and I started fishing with The Bug at the Chesapeake Bay Bridge Tunnel in the 1990s. In those days, there were lots of menhaden at the Bridge Tunnel and striped bass were plentiful.  The area was known as the premiere striper fishery on the East Coast during the months of December and January. We called it The Promised Land.
On most days at the Bridge Tunnel, the fish bit, but sometimes they were finicky. On one particularly tough outing, we experimented by following one of George's suggestions and threading a 6-inch Bass Kandy Delight (BKD) onto the hook of The Bug. That combination proved to be exceptional for big stripers around the rocks of the islands and over the tubes of the tunnels. My theory at the time was that it was because they looked a little like mantis shrimp which are a favorite bait for stripers in the ocean.
On one memorable trip, we ran out of Bugs. Well, everyone ran out except Rich Jenkins who proceeded to kick our butts by catching fish on every cast. Jamie Clough and I stood around looking sad for awhile until I remembered that I had my fresh-water bass fishing tackle box stashed away in the console. I found some spinner baits, removed the silicone skirts, and we attached them to the shad-style jig heads we already had tied on. Wham! We were back in the game. They worked so well that we had one of the most memorable days ever at the Bridge Tunnel.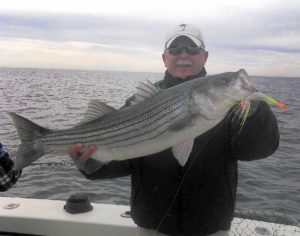 I stayed quiet about the skirted jigs we were using for a few years out of respect to George Lenard. Intellectual property rights don't always get the respect they deserve in the fishing business. When someone has an innovative idea, there's frequently an imitator standing by who is eager to swing onto his coattails. Even though skirted jigs don't infringe on George's design in a legal sense, I didn't want to disrupt any of George's sales of The Bug, but word eventually got out.
I don't always use jigs with silicone skirts. There are times when the fish prefer a lure with a slim profile. In fact, my first casts are most often using lures without skirts. I decide based on what kind of bait I see the fish eating. You know, the old match-the-hatch theory. If stripers are feeding on small herring or some other type of thin bait fish, I won't add a skirt, but as soon as I see the first wide, 5-inch peanut bunker knocked up into the air, out come the skirted jigs.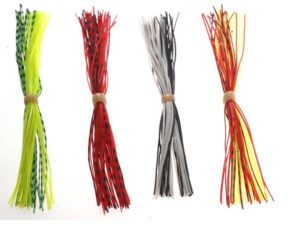 In my second book, The Right Stuff, Gear & Attitudes for Trophy Light Tackle Fishing, I spend a lot of time introducing the concept of strike triggers since it is so useful for tricking big fish. Color contrast is one of the most important strike triggers. I prefer skirts that contrast with the color of the lure, but still show up somewhere close on the color spectrum. For example, a chartreuse skirt on a white lure is a good combination; so is an orange skirt on a chartreuse lure. You can even find skirts that have those color contrasts already built in. Better yet, you can buy a single color skirt and add your own color contrast with the additional strike trigger of smell by dipping the silicone stands in a scented dye.
Most factory-produced skirts consist of about twenty silicone strands held together by a short, strong rubber collar. The strands are usually spaced so that they protrude from both sides of the retaining collar in equal lengths. You can experiment by adjusting those lengths and pulling the strands one way or another. You can also trim the skirts to keep them from covering most of the bait.
The way you attach the skirts to the jig is important. Start by simply sliding the skirt over the barb of the hook and up the shank toward the lead part of the jig head. Barbs or rings on the lead will help hold it on but make sure you slide the skirt all the way up so that it sits tightly against the head of the jig. Now, thread your soft-plastic lure onto the hook. I use skirts with 5-, 6-, and 7-inch soft plastic baits and, in colder weather when there are especially big fish around, I'll even put them on bigger lures.  Make sure there are no kinks or bends in the soft-plastic. It's important that the lure hangs perfectly straight on the hook. Stop just before you get to where the tip of the soft plastic lure touches the rubber collar of the skirt. Here's where you'll need to add a drop or two of super glue. This is critical because the added width of the skirt will cause the plastic in your lure to split, and it won't stay on without glue. Gel type super glue works best. After you apply the glue, push hard to slide the lure the rest of the way up and over the collar of the skirt. The glue dries very quickly so you don't have to wait before you cast.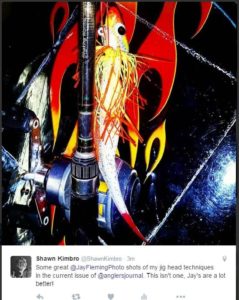 You can buy silicone skirts at most of the local tackle shops and at all the big-box fishing stores. You can also order them online. I recently ordered a package of fifty skirts for less than $5.00 on eBay. You can get them even cheaper if you just buy the pre-cut silicone strips and use a skirt making tool or skirt pliers to add the collar. If you don't want to bother with putting the skirts together, you can buy lures from local lure makers that are pre-rigged with very effective skirt and lure color combinations.
Fishing with skirted lures is easy. Just snap them along like you would any jig. When you are really tuned in to the fall of your lure, you can feel the added resistance of the skirt as it moves through the water, but it usually won't affect the action or sensitivity too much.
Skirted baits are an effective way to modify and improve your light tackle arsenal. If you haven't tried them yet, it's worth a shot. Oh, and when you do, give it a little Hawaiian wiggle for George Lenard and The Bug and raise a Mai Tai to Fred Arbogast and his Hula Popper. Break out the ukuleles because the more things change, the more they stay the same!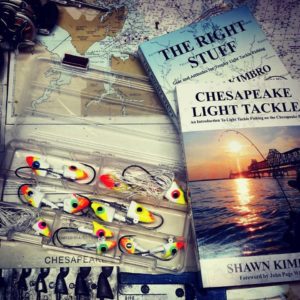 Responses to "In Praise of Hawaiian Wigglers"